The 3.5 million CodeCheck users want products that are equally good for the body and the environment and come from a sustainable production. The monthly evaluation of CodeCheck's Insights shows which products attracted a lot of attention from conscious consumers in April and achieved high interaction values, for example, in product scans and reviews.
The top 3 products DACH from March 2020 at a glance
CodeCheck Community rating: 5 out of 5 stars
Top user comments:
I like the smell
Very good price-performance ratio
Foams, cleans to garden width, fragrant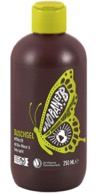 2. No Planet B Duschgel Bio-Minze & Baby Apfel
CodeCheck Community rating: 4 out of 5 stars
Top user comments:
It's great that now not only the content is produced cleanly and environmentally friendly from natural ingredients, but also that the packaging and recyclability is taken into consideration. Buy it and recommend it to others! More of it!

It's good

3. Planet Pure bathroom cleaner fresh pomegranate
CodeCheck Community rating: 4.5 out of 5 stars
Top user comments:
Very good! Cleaning power, the bottle from cane not from plastic. The smell is quite pleasant, it is just cleaner. It is biodegradable.

Smell on before not pleasant.

Pleasant smell. Good cleaning power.

The only bath cleaner with only slightly alarming ingredients
---
Looking for tailor-made insights on conscious consumers for your company?
Then, you may want to try and use CodeCheck Insights, the largest panel for conscious consumers in the German-speaking countries. The CodeCheck app platform is reaching 3.5 million users. Ask users directly and receive informative data and valuable insights into the desires of the discerning and conscious consumers – segmented according to your wishes.
Methodology: All interactions triggered by CodeCheck users are measured. This includes scanning, searching, product page views, comments, voting and rating.