Increasing beauty from within by improving the bacterial ecosystem of the skin: This is what skincare products aim for if they rely on a microbiom technology and similar ingredients. Even though such an approach to cosmetics is still fairly new, the effect should be familiar to people who eat probiotic yogurts, which are supposed to improve health from within. Our 'Ingredient of the Month' series explains where microbiome-based ingredients are already used in cosmetics and how manufacturers can cater to conscious consumers' needs.
100 Billion Bacterial Cells per Adult
Scientists assume that every adult human is colonized with around 100 billion bacterial cells. The intestinal microflora bacteria, which are boosted by the intake of probiotic yogurts, are of specific importance. Useful bacteria occur on mucous membranes and on the outer skin.
Probiotics as a Nutrient for 'Good' Bacteria
According to the market research company Euromonitor, cosmetic and skincare product suppliers are designing health-enhancing skincare products that contain living bacteria. Such products—with the help of microbiomes or 'biome-friendly ingredients'— should improve the skin's flora. Probiotics in cosmetics "protect against infections, assist in wound healing, limit exposure to allergens and UV radiation, minimize oxidative damage, and help to keep the skin barrier intact and moisturized."
For example, the manufacturer of Frei Öl products advertises the use of probiotics in its anti-aging product line: "The active ingredient phytosterol used in the product line serves as a nutrient for the 'good' bacteria, thus promoting healthy skin flora," reports
Frei Öl on the relevant theme page. Dove, on the other hand, is committed to ensuring that its products are mild to the body's skin microbiome. Unlike the products already mentioned by Frei Öl, Dove uses no probiotics. Instead, during the production process, care is taken to ensure that Dove's products are sulfate SLES-free and pH-neutral, thereby ensuring '100% mild cleaning.'
Bifida Ferment Lysate is another example of the microbiome trend. It is a fermented product of Bifidobacterium longum, a useful lactic acid bacterium in the digestive system. The use of Bifida Ferment Lysate has two major benefits: it protects against UV-induced skin damage and provides an anti-aging effect. According to the CodeCheck database, this ingredient is most commonly found in facial creams.
Of all the products containing Bifida Ferment Lysate that are listed with CodeCheck, 49% are face creams. Biotherm Life Plankton Elixir is one example. However, Bifida Ferment Lysate is also commonly used in eye creams, body oils, and facial masks.
Raising Consumer Awareness
Microbiome-based ingredients or probiotics are being increasingly used in skincare products. However, a great number of consumers do not know that microbiomes can have a positive effect not only on people's intestinal microflora but also on their skin. This has been demonstrated in the CodeCheck database assessment. Manufacturers should be providing this information because consumers who are well aware of the specific ingredient would evaluate the product positively. For example, the product Vichy Slow Age Daily Care is widely accepted by conscious consumers because it contains a specific probiotic ingredient. CodeCheck figures also show that new products containing the probiotic ingredients Bifida Ferment Lysate, Lactobacillus, or Lactobacillus ferment gained 76% consumer satisfaction this year compared to just 64% last year.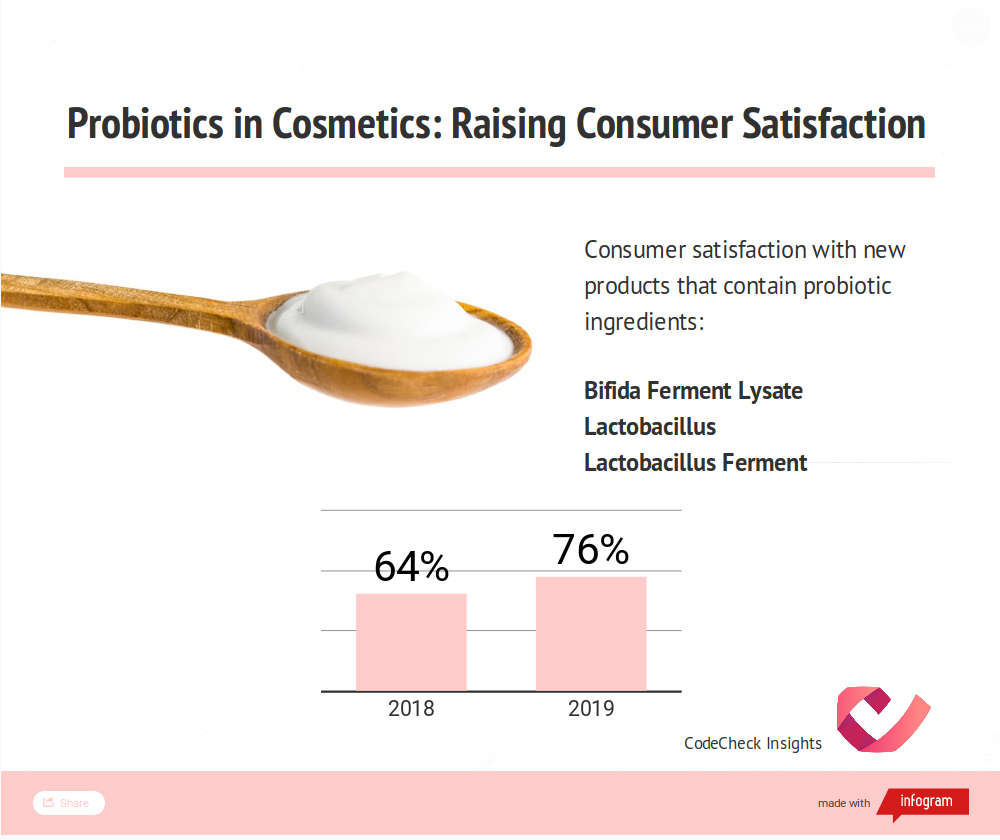 Lactic Acid Bacteria May Discourage Vegans
Additional activities may need to be carried out to raise awareness among vegans and conscious consumers who pay attention to lactose-free products. The use of lactic acid bacteria (Lactobacillus) may be confusing because the term suggests a relationship with cow's milk. This, however, is not true. Manufacturers are, therefore, facing the challenge of decoupling the term 'lactic acid bacteria' from the term 'milk.'
Also, microbiome trends in skincare still pose research and development challenges to companies. Although the initial studies suggest positive effects, comprehensive and well-designed human studies examining the precise dosage and potential side effects are still missing. Further, the production of microbiome technology products is not yet suited for the mass market and is currently used for only a manageable number of products.
---
Looking for tailor-made insights on conscious consumers for your company?
Then, you may want to try and use CodeCheck Insights, the largest panel for conscious consumers in the German-speaking countries. The CodeCheck app platform is reaching 3.5 million users. Ask users directly and receive informative data and valuable insights into the desires of the discerning and conscious consumers – segmented according to your wishes.
Methodology: All interactions triggered by CodeCheck users are measured. This includes scanning, searching, product page views, comments, voting and rating.